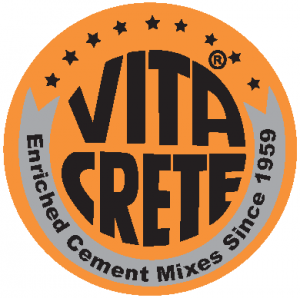 GRAVEL MIX is a quality blend of Portland cement, graded sand and stone/gravel. It is designed to be used in applications at least 2 inches thick. Applications include foundations, footings, walkways, drives, slabs and anchoring posts and poles. Vita-Crete Gravel Mix is designed to meet or exceed the specifications of ASTM C387 for normal weight concrete.
COMPRESSIVE STRENGTH:
Slump Range 2" – 3"
7 days 2500 psi (17.2 MPa)
28 days 3500 – 4000 psi (24.1-27.6 MPa)
MIXING:
One 80 lb. (36.2 kg) bag will require up to 4 quarts (3.7L) of water. Thoroughly mix the contents of the bag with 3 quarts (2.8L) of water, adding the remaining water a little at a  time if the mix is too stiff. Adding too much water will weaken the mix and may cause cracking in the surface.
FINISHING:
Use a screed or straight edge to level the surface. Allow the surface water to disappear before finishing. Trowel to a smooth finish, but do not overwork the surface.  Over-troweling or finishing the surface too soon can lead to scaling, cracking or dusting of  the surface.
CURING:
Gravel Mix cures under proper moisture and temperature conditions. It's important to keep the surface damp for several days after placement. Methods include misting, applying a curing agent or placing plastic or wet burlap over the surface. Protect the Gravel Mix from freezing for at least 24 hours after placement.
COVERAGE:
One 80 lb. bag will yield approximately .60 cubic feet. To estimate the number of 80 lb. bags needed for a job, multiply the length x width (in feet) x depth (in inches), then divide by 8.