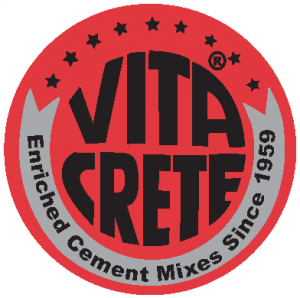 MORTAR MIX – TYPE S is a quality blend of C-144 mason sand, Portland cement and hydrated lime or C-144 mason sand and high strength masonry cement. It is used to build brick, stone and block walls, and can be used as a stucco scratch and/or base coat. Also use for tuck pointing mortar joints in brick or block. Vita-Crete Mortar Mix is designed to meet or exceed the specifications of ASTM C 387 and C270 for Type S Mortar for unit masonry.
COMPRESSIVE STRENGTH:
28 day 1,800 psi (12.4 MPa) Water Retention 75%
MIXING:
One 80 lb bag (36.2 kg) bag will require up to 4.5 quarts (4.3L) of water. Thoroughly mix the contents of the bag with 3 quarts of water, adding the remaining water a little at a time if the mix is too stiff until a workable mix of trowel consistency is obtained.
FINISHING:
Butter the ends of the brick or block with the mortar and place into a bed of mortar. Level while gently tapping into place. When used in tuck-pointing, after compaction into the joint,  allow the fresh mortar to set before striking the joints.
CURING:
Keep the placed material damp in hot weather conditions to aid in curing. Protect the mortar from freezing for at least 24 hours after placement.
COVERAGE:
One 80 lb bag (36.3 kg) bag will lay approximately 38 standard brick or 13 standard blocks.
One 80 lb bag (36.3 kg) will cover approximately 35 sq. ft. at 1/4 inch thick.